Table Tents Upsell and Cross-Sell Effectively and Cost-effectively
Table Tents have been around a long time and have proven themselves as effective marketing tools. You¡¯ll see them on the majority of restaurant tables, highlighting specials or a seasonal promotion. But you also see them in salons, hotels, waiting rooms, bars, and most places where you have a seated audience. Table Tents are inexpensive to produce, but because they are often handled by customers, they need to be durable. Use the best quality Table Tent material you can afford. You¡¯ll gain value in terms of durability, color saturation and the ability to reproduce high-definition graphics.
Table tents work by helping customers to make decisions, by tempting them with appealing graphics, and by underscoring that the customer deserves what is being offered. Usually, this results in either an upsell (Customer buying a higher value item than they originally intended) or a cross-sell (Customer buying items that complement their intended purchase). Upsells and cross-sells improve the profitability of your customers. Below are two ideas for using Table Tents.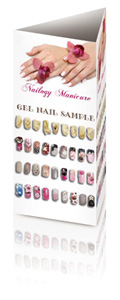 Idea 1: Table Tent with Samples
Some businesses will have greater success with upsells and cross-sells when customers can touch or interact with a product. A hot glue gun and Table Tents provide an innovative way to tackle this opportunity.
* Because PP Table Tents are waterproof, Nail and Salon owners can place nail designs or colored hair samples on the Table Tent and let clients feel and touch them.
* Because PP table tents are easy to assemble and self-supporting, an acrylic stand is not necessary, saving production and shipping costs.
Idea 2: Low-cost Calendar Table Tent
Customers appreciate the usefulness of calendars. But because they are usually printed paper on a cardboard backer, the production cost can be a little on the high side.
* With a PP Bi-Fold or Tri-fold Table Tent, the production and shipping costs are less expensive and have additional value propositions.
* In addition to printing company contact information, you can also incorporate a business card. It can be a static part of the Table Tent or it can be detachable.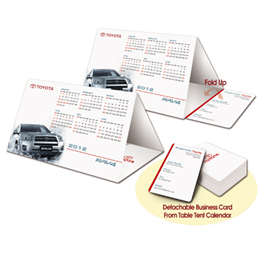 Table Tents will almost always work. To work at their best, they need to be made with good materials and be printed with precision. Choose a great partner to get these done. Choose GT&C.
Why GT&C Should Be Your Trustworthy Table Tent Print Shop
* Made of high quality, eco-friendly material: Recyclable PP or PET, resistant to tears, stains, chemicals, and water.
* Low minimum order quantity: flexible 50 pieces.
* Fast turnaround: 3 to 5 days.
* Low mold-making charge for custom-shaped Table Tents, we print any imaginable shape to capture the attention of your target audience.
* Variable Data Printing brings you brilliant Table Tent image quality (Brand logo, contact info, company info, promotion info, etc.).
* Our professional design team will help you with free, eye-catching designs.
Contact
Click here
to send your requirements or questions to us.
We promise to reply promptly. You can also call us at (852)62798114