Boost Sales And Brand Affinity With Indoor Marketing Shelf Danglers
Issued by GT&C, June 27, 2012
Shelf Danglers have long been a popular POP promotional tool in grocery stores. Their effectiveness in grocery stores got noticed by savvy marketers. Now you also see them in restaurants, gas stations, fitness centers, hotels, retail shops, mobile stores and more. Marketers are also going far beyond the creation of eye-catching sizes, shapes and graphics. They are also using Shelf Danglers as cost-effective branding and customer involvement tools. Below are two ideas for using Shelf Danglers.
Idea 1: Shelf Danglers Can Generate Traffic For A Web Page Or Branded Social Media Site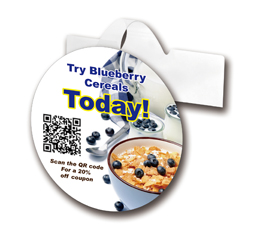 When consumers scan a QR code, they expect something of value in return. For example:
* A promotional discount
* Interesting and useful information related to the brand
* Entry into a contest
* An opportunity to provide feedback
These values are typically hosted on a Web site landing page, or the company's Facebook page. Sometimes the offer will be communicated on the Shelf Dangler; "Scan and save 20% at checkout!" or "Scan and we'll email you a great recipe" or "Scan now - 90-minute massage for $60." The important thing is to collect some customer contact information for ongoing marketing efforts.
Idea 2 : Shelf Danglers Minimize Your Indoor Marketing Budget
Shelf Danglers are an economical way to generate interest in your brand during holidays, events and promotions instead of spending great sums on seasonal or promotional packaging and other short-term POP materials. Shelf Danglers are economical because it doesn¡¯t take very many to influence a potential buyer¡¯s perception of a whole shelf of goods. With Shelf Danglers, you won¡¯t risk having seasonally-packaged product looking out of date, or worse¡­ discounted or discarded. Also, because Shelf Danglers are so inexpensive, you can afford to do extensive A/B testing to determine the most effective approach.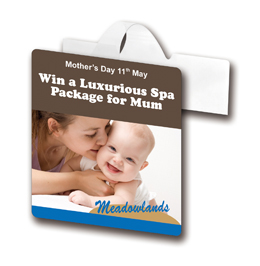 Shelf Danglers are a valuable indoor marketing tool. To work their best, they need to be made with durable materials and be printed with precision. Choose a great partner to get these done. Choose GT&C.
Why GT&C Should Be Your Shelf Danglers Supplier
* Our Shelf Danglers are made of high quality, eco-friendly material: Recyclable, long-lasting polypropylene (PP); resistant to tears, stains, chemicals, and water.
* Low minimum order quantity: flexible 50 pieces for small order or trial marketing programs.
* Fast turnaround: 3 to 5 days.
* Low mold-making charge for custom-shaped Shelf Danglers. We print any imaginable shape to capture the attention of your target audience.
* Variable Data Printing brings you brilliant image quality and great flexibility for printing your logo, slogan, company info, promotion info, etc.
* Our professional design team will help you with free, eye-catching designs.
Contact
Click here
to send your requirements or questions to us.
We promise to reply promptly. You can also call us at (852)62798114