Restaurant Key Tags: New Technology Makes A Cost-Effective Marketing Tool Even More Valuable
Key Tags are much more valuable than simply having your logo on a customer¡¯s keychain. Key Tags are a marketing tool that enables a restaurant to deliver tailored marketing offers, thereby increasing customer loyalty and frequency. With Key Tags, you¡¯ll achieve the Holy Grail of marketing; knowing which customers respond to which offers. Below are three ideas for using Key Tags to promote restaurants:
Three Restaurant Key Tag Ideas: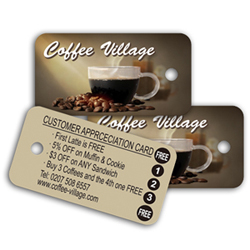 1. Use key tags as a free drink/food offer
Restaurants can give discounted or free offers to increase sales, customer frequency, and reward customer loyalty. For example:
* First latte is Free!
* 10% off Muffin & Cookie
* Buy 3 coffees and the 4th one is Free!
Add a transparent signature panel so that used offers can be marked. Or, use hole punching machine to punch small holes on the used offers.
2. Apply QR codes to Key Tags
QR codes enable a mobile device to access specific Web content. Customers can use their smartphone to scan the code to access the restaurant website, interact with your social network page, or view a landing page to enjoy discounts, see free offers, or redeem points.
In addition to tailored promotions, QR codes can accrue benefits for your Web site, by creating more site visits and providing a means for establishing social network links.Click here to access QR code special offer page.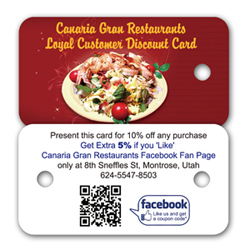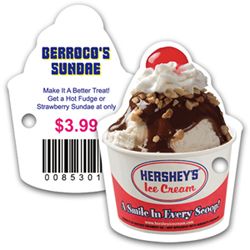 3. Custom Shaped Key Tags
Restaurant Key Tags can be made in almost any imaginable shape; from bite-sized pizzas, sundae cups, beer bottles, ovals, squares and circles. A popular alternative is to use the restaurant logo for a custom shape.
It is amazing that a simple Key Tag can provide a restaurant so much value! Key Tags leverage social media, and bar-code and smartphone technology to provide a low-cost, plastic marketing tool. GT&C is eager to help create brilliant Key Tags for your restaurant that meet your marketing requirements.
7 Reasons GT&C Should Make Your Restaurant Key Tags
* Free Variable Data Printing (QR code, bar-code, contact info, company info, and any variable data you can
provide in a spreadsheet.)
* Low Mold-Making Charge for custom shaped key tags.
* Low minimum order: 50 pieces.
* Fast turnaround: 3 to 5 days.
* High quality: resistant to tears, stains, chemicals, and water.
* Free ABS Key Rings (Color: Pink, Blue, Black, White).
* Recyclable PET or PETG material.
Contact
If you have any questions or comments, we are eager to discuss your ideas and needs. Please contact us by
clicking here
or Call (852)62798114